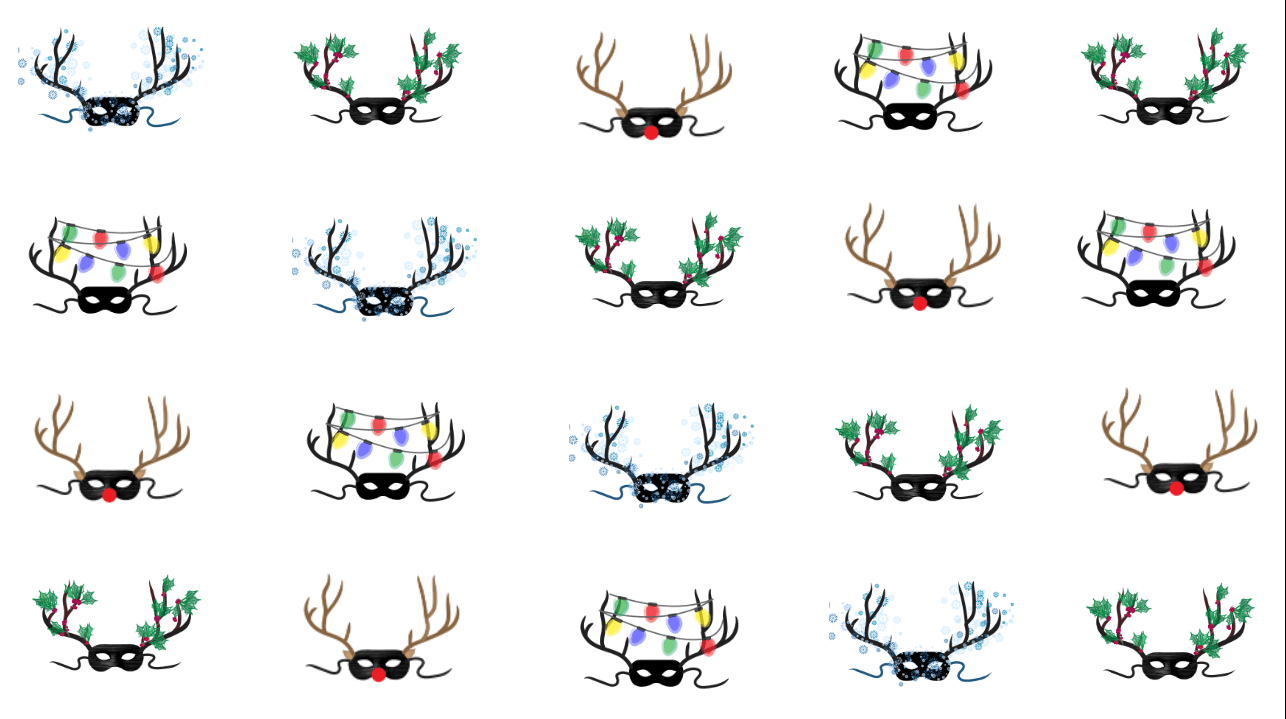 "
As a lusty 

winter –

 f

rosty, but kindly.

"
(As You Like It, 2.3)
| In this issue:

"How far that little candle throws his beams!"
(The Merchant of Venice, 5.1)
| A Thank-You to our Donors – Dispatch from the AD's Home Office
If you follow us on the interwebs, you may have seen our Midwinter's Dream Campaign: 21 days towards 2021. (And if you haven't, check it out here.) We launched it on Giving Tuesday (December 1st) and this installation of the Duodecimo was supposed to be the crucial midway point: a chance to encourage donations and inch us closer to our goal… 
We knew we were being a bit conservative when we made it our goal to raise $2,021 in 21 days towards our 2021 tour; but given how difficult this year has been for everyone, we wanted to keep expectations and the pressure low. We certainly did NOT think we would reach and then surpass our goal within the first few days of the campaign! Clearly we underestimated the generosity and dedication of our amazing supporters. People like you!
You have shown us that, not only can we survive this incredibly challenging year, we can actually start to dream. With you in our corner, we can imagine all kinds of possibilities for next summer…  So, let's not stop now! Let's keep Midwinter Dreaming and see how far we can go.
If you gave to our campaign already, or donated this year: Thank you! If you were thinking of donating, but are still on the fence, do it! I promise we will not let your support go to waste. And if you aren't in a position to give right now: that's totally okay. We are so grateful for you anyway. (Plus, let's face it, we'll probably ask you for money at some point in the future 😉 )
We are so eager to get into the parks with you. And I know that right now, that feels impossibly far away. But it will happen. And when we shall meet again, why, we shall smile.
Warmest regards and midwinter dreams,
Amanda

"Here art thou in appointment fresh and fair, anticipating time with starting courage."
(Troilus and Cressida, 4.5) |
| Kickstarting Careers 2020
Over the years, Repercussion has had the chance to work with some amazing young artists – who evolve into amazing still-young-but-slightly-older artists! Kickstarting careers is a big part of who we are as a company, and don't we all enjoy being able to say "we knew them when"?
Well, here are a few fine folks you may remember from seasons past of Shakespeare-in-the-Park sharing how they got their start and where they are now…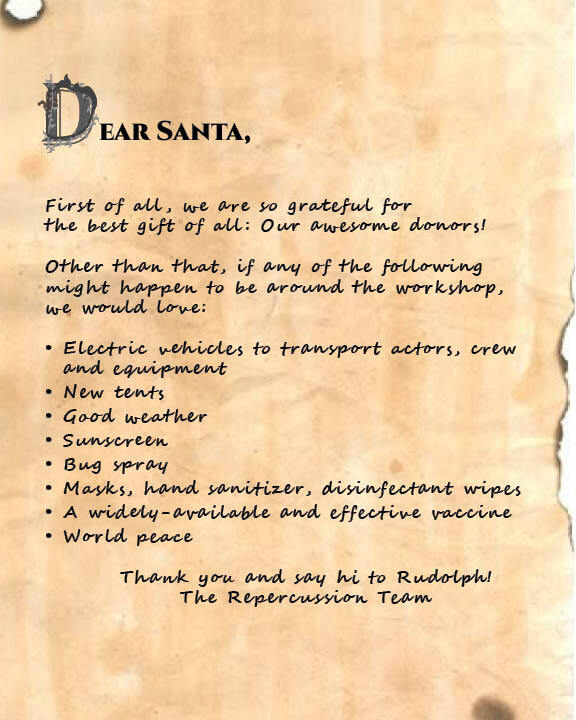 As Repercussion adapts to the profoundly altered arts landscape during this time of crisis, we humbly ask that you consider becoming a monthly donor, or making a charitable contribution.
Your valued patronage enables us to keep developing new works, kickstart theatre careers, and nurture strong community connections grounded by the arts.
Thank you.

"And now, listen great things…"
(Julius Caesar, 4.1)
| Podcasts for Pining Bardolators
We may find ourselves, in the midst of continuing restrictions, with a bit (or an abundance) of free time, and a dearth of company… which might prove particularly trying as we approach a time of year normally rife with jovial gatherings. An excellent option for engaging diversion is queuing up a good podcast – intellectually stimulating, fodder for discussion with distant dear ones (beats out the old standard, "Well, what with lockdown, I really haven't been up to much, so I can't really give you updates…"), and, perhaps best of all, requiring almost no screen time!
Here are a few choice auditory treats, vetted by our very own Amanda Kellock, Artistic Director.
– Approaching Shakespeare by Oxford university
– Shakespeare Unlimited by the Folger Shakespeare library
– The Shakespeare Sessions by BBC Radio 3