Launched in 2016, Words with Will is Repercussion Theatre's ongoing play development series that supports new plays by contemporary Canadian writers. These plays are inspired by and/or talk back to Shakespeare in some way, and allow audiences to engage with the work at various stages of the process. These new works complement our Shakespeare-in-the-Park programming.
Words With Will 2nd Edition (2019-2021)
For the 2nd edition of Words With Will, we are fostering the development of two new works by three playwrights: Wardo by Jimmy Blais and Black Fly by work-and-life-partners, Amy Lee Lavoie and Omari Newton. These projects promise to continue pushing theatre-makers' and audiences' reflections on Shakespeare, and we are thrilled to be working with these thoughtful and talented artists.
After receiving support from the amazing team at Playwright's Workshop Montréal, excerpts from these exciting plays-in-progress will be shared publicly as part of our Words With Will livestream events.
Livestreams featured a roundtable discussion with previous Words with Will playwrights Jeff Ho and Erin Shields, along with Jimmy Blais, Amy Lee Lavoie and Omari Newton, followed by conversations with the writers and their creative team, as well as sneak-peaks at the play and process. The videos are available until March 25. There are two ways to watch our livestreamed event: Facebook or YouTube. You can view the program/slideshow from the event here.
Here is what Jimmy has to say about this project:
"Wardo follows an Indigenous adolescent boy Jordon into his 17th foster home. He is hardened and shut down, his guard is up and seemingly impenetrable until …his new, charmingly eccentric mom Dottie finds her way in; Shakespeare. Using the child welfare system as a metaphoric parallel, Wardo examines the complexity surrounding our admiration of Shakespeare's work and puts into question the significance of the space and time we dedicate to what many consider to be cultural imperialism."
The development of this project is happening in partnership with Native Earth's Animikiig Creators Unit, and involves Yvette Nolan as a Mentor/Dramaturg.
Black Fly by Amy Lee Lavoie and Omari Newton
Here is what Amy Lee and Omari have to say about this project:
We are interested in deconstructing Titus Andronicus, and refocusing the story through the lens of Aaron and Lavinia told as a satirical, dark comedy. Our play will use elements of Hip Hop theatre and contemporary language to explore issues of racism, misogyny and violence. 

Jimmy Blais
Jimmy is a member of the Muskeg Lake Cree Nation, he is of Plains Cree and French settler heritage.
Born and raised in Montreal, Jimmy graduated from Concordia's Theatre Performance Program. He is a seasoned stage and film actor. He has worked professionally for over 10 years, for companies like The Stratford Festival, The Centaur, Geordie Theatre, Porte Parole and La Licorne. He has had roles in television and film for Crave, Discovery Channel, CBC and Space as well as multiple award winning short films. Jimmy's most notable TV role was playing Watio for five seasons in APTN's hit series Mohawk Girls. Jimmy is also a writer, director, mentor and coach. He spent several years as a visiting artist/associate professor at Concordia University and as a mentor in Black Theatre Workshop's Artist Mentorship Program. He was the Indigenous Artist in Residence for the 2016 Students On Ice Expedition to the Arctic. Jimmy just successfully completed the Indigenous Artist In Residence at The National Theatre School of Canada, where he spent 18 months focusing on creation and playwriting. His play Sonny's Way was presented at Native Earth's Weesageechak Begins To Dance festival in Toronto in November 2019 and is set to be produced in 2022.

Amy Lee Lavoie
Amy is an award-winning playwright and a graduate of the National Theatre School of Canada's Playwriting Program. Her first play, Rabbit Rabbit, received its premiere production with Infinitheatre, earning Amy Lee two MECCA's for Best Text and the Revelation Award. Rabbit Rabbit has since been produced across Canada and in the US. Other plays include Me Happy (co-written with Matthew Mackenzie/Summerworks Festival), Stopheart (Factory Theatre) Genetic Drift (Pi Theatre/Boca del Lupo) My Tom (Railtown Lab Series) and C'mon, Angie! (Touchstone Theatre/Leroy Street Theatre) which was hailed as "visceral, important, life-changing theatre." Amy Lee was also the Head Digital Writer for the CBC drama Strange Empire, which won a Gracie Award (Women's Alliance Media) for Best Website in recognition of its interactive storytelling.
Amy Lee is currently co-writing multiple projects with her husband/fellow writer Omari Newton. They include Redbone Coonhound, generously supported by the Canada Council for the Arts and in development with The Arts Club Theatre, an adaptation of Titus Andronicus, commissioned by Repercussion Theatre, as well as an original screenplay, Kevin vs. Nicole, with Our Lady Productions in LA.

Omari Newton
Omari is an award-winning professional artist. As a writer, his original Hip Hop theatre piece Sal Capone has received critical acclaim and multiple productions, including a recent presentation at Canada's National Arts Centre. He has been commissioned by Black Theatre Workshop (BTW) in Montreal to write a companion piece to Sal Capone entitled Black & Blue Matters. Omari and his wife, fellow professional playwright Amy Lee Lavoie, recently received a generous grant from the Canada Council to co-write a new play: Redbone Coonhound. Their latest collaboration is a bold and innovative satirical comedy that confronts instances of systemic racism in the past, present and Future. Newton's work in Speakeasy Theatre's production of Young Jean Lee's The Shipment earned him a 2017-2018 Jessie Richardson Award for Outstanding Performance by an Actor, as well as a nomination for Best Direction. Notable film & TV credits include: Lucas Ingram on Showcase's Continuum, Larry Summers on Blue Mountain State and Black Panther in multiple animated projects (Marvel). Most recently, Omari has a recurring role as Nate on Corner Gas (the animated series) and a recurring role as Corvus of Netflix's hit animated series The Dragon Prince.
Words With Will

 1st Edition (2016-2019)
Starting in 2016, Repercussion Theatre developed, in collaboration with Playwrights' Workshop Montréal:
Thy Woman's Weeds, by Governor General Award winning playwright Erin Shields, a theatrical exploration of what it means to be a woman working with Shakespeare today, featuring seven strong female performers: Deena Aziz, Luncinda Davis, Leni Parker, Michelle Rambharose, Joy Ross-Jones, Felicia Shulman and Julie Tamiko-Manning. The initial staged production was set for May 2020 and has been postponed.
Cockroach, by performer-playwright and Repercussion alumnus ho ka kei (Jeff Ho), a solo piece about his very personal relationship to language, culture, trauma, and the canon. Cockroach began as Whispers, a piece about the culutral stories and relevancies that Ho saw whispering in the background of Shakespeare's work. "However, I realized at this point in life (2018), I am much more keen on roaring above his words.
"A gigantic reason for this overhaul is the realization, that before looking at decolonizing the works of Shakespeare in other languages and through otherness, I must first investigate and decolonize his work and his language within myself first." – ho ka kei (Jeff Ho)
The inaugural presentation of Words with Will ran through readings in late October, 2018 at The Segal Centre for the Performing Arts' Studio Space. 
Left: ho ka kei (Jeff Ho) for the staged reading of Cockroach in 2018.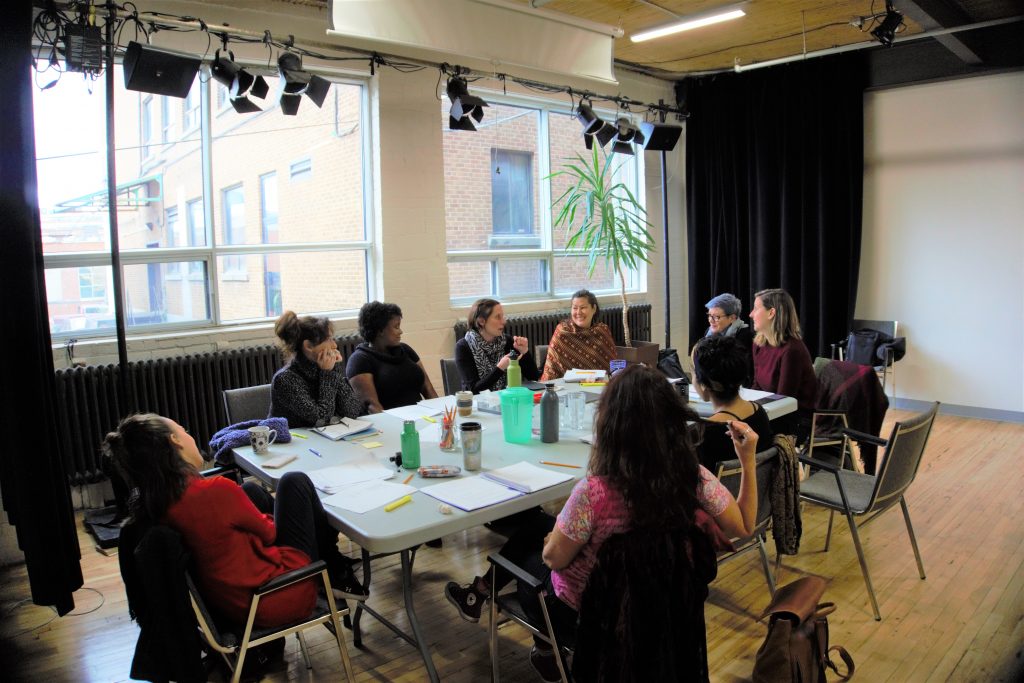 Right: Early workshop of Erin's play at Playwrights Workshop Montreal, with (clockwise from left) Leah Fong, Julie Tamiko-Manning, Erin Shields, Sam Bitonti, Amanda Kellock, Lucinda Davis, Deena Aziz and Leni Parker.
Photo credit: Emma Tibaldo
This initiative is made possible by the support of Canada Council for the Arts and the Cole Foundation.
Developed in collaboration with Playwrights' Workshop Montréal.