Volunteer with Repercussion
Volunteers are crucial in helping Repercussion function year in and year out. Each summer, we gather a group of people from all ages and backgrounds to help us bring classical theatre to parks across Montreal and beyond. Whether you're looking for a summer activity for you and your friends or you simply want to get involved with Shakespeare-in-the-Park, there's a place for you on our team!
Our volunteers help us out in several key ways. Before the tour even opens, our team travels around Montreal,  distributing posters in the neighbourhoods where we have shows. During the tour, we need volunteers at each show to help operate the concessions tent, usher, and distribute programs. A great thing about volunteering with Repercussion is that your time commitment is totally up to you! Whether you're at one show or twenty, we'd love to have you on board.
Find out more about this summer's Shakespeare-in-the-Park tour here, and, if you're interested in being a part of its return, please contact us using the form on this page.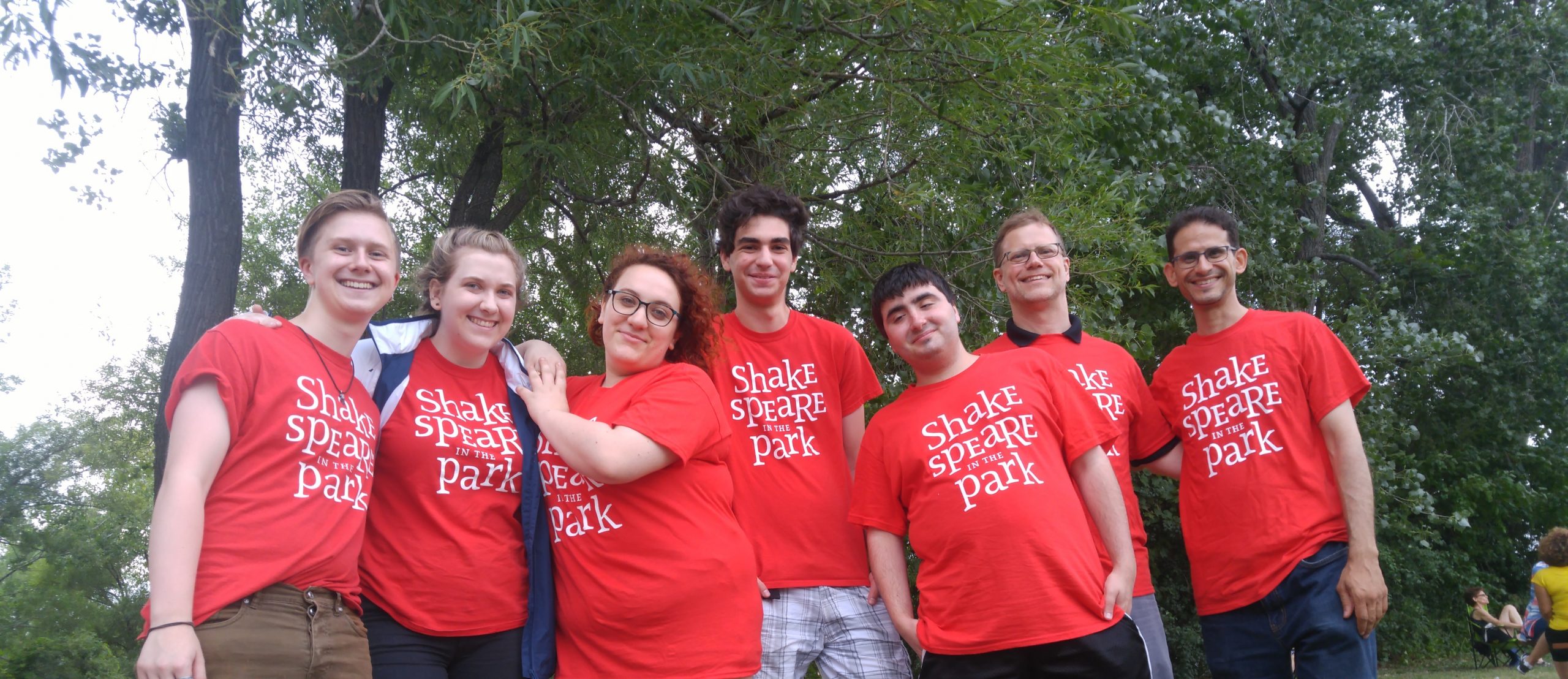 L to R: Eli C., Hailey B., Isabella R., Jake C., Anthony O., Salomon D. Photo by Serena Henson.
"After volunteering the first year, I had such a good time hanging out with the other volunteers and re-watching the show each night that I signed up again. I really enjoy the energy at each show- everyone's outside, the actors are excited, the audience is excited. As a volunteer, you're just a person in a red shirt there to help everyone enjoy themselves."
– Amber Gamrat
"I decided to officially volunteer around five years ago and have been coming back for the great people. Working with the team to set up the tents, stuffing programs and getting eaten alive by bugs has never felt so magical. Everyone is supportive of each other, there's always a laugh to be had. It's a super rewarding experience."
– Taya Ismail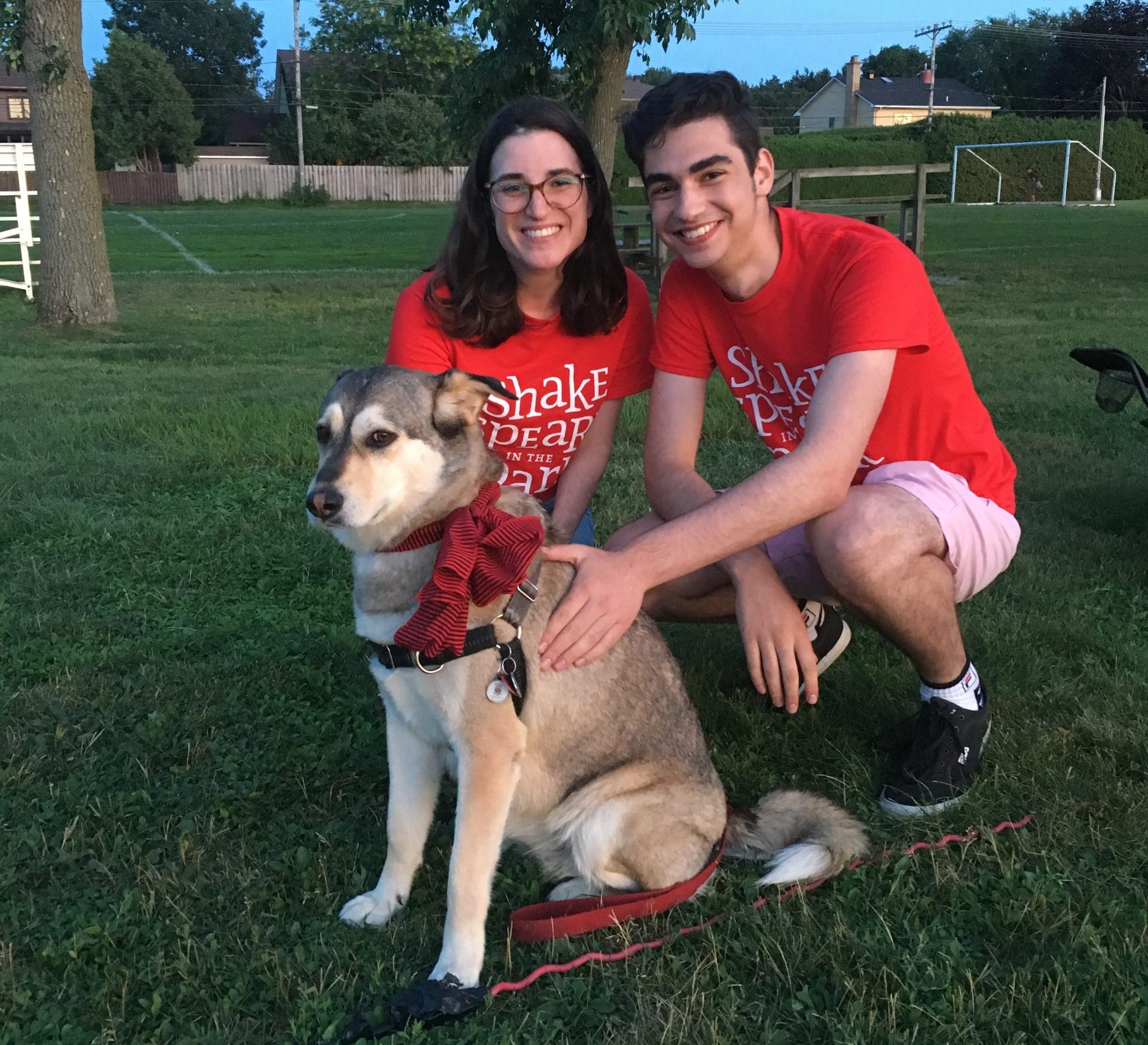 Tamara L., Jake C. and Miley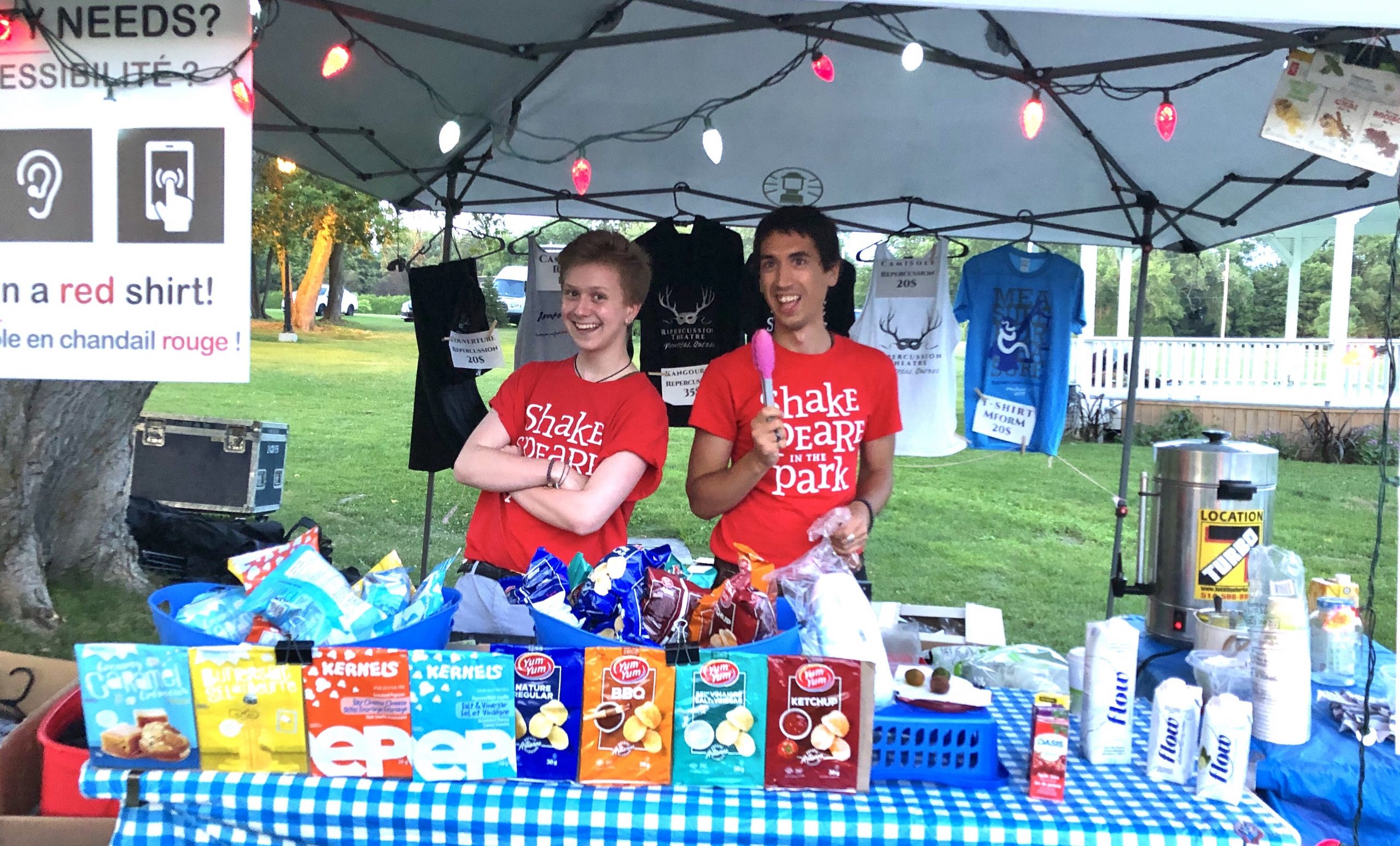 L to R: Eli C., Luca S. Photo by Tamara Lavoie.
"I really enjoyed showing up and supporting the theatre. As a volunteer I never felt like my presence and my job was useless, I really felt like I was contributing to a team in my small way."
– Aymeric Barbeau
Thank you to all of our 2019-2020 volunteers, listed below:
Alice Hinchliffe
Alissa Bocarro
Amber Gamrat
Anita Bedi
Anthony O'Reilly
Aymeric Barbeau
Chloe Gingras
Egan O'Sullivan
Elena Kaplan
Eli Cross
Elizabeth Harwood
Gabe Cohen
Jane Weary
Jasmine Winter
Julie Michelet
Katharina Brabander
Kevin Erskine-Henry
Lili Grenon
Madeleine Valée Watt
Natalie Grenon
Olivia Pontecorvo
Safia Hidara
Seairra Nemecek
Tali Anzel-Sivkin
Taya Ismail
Zach Cohen