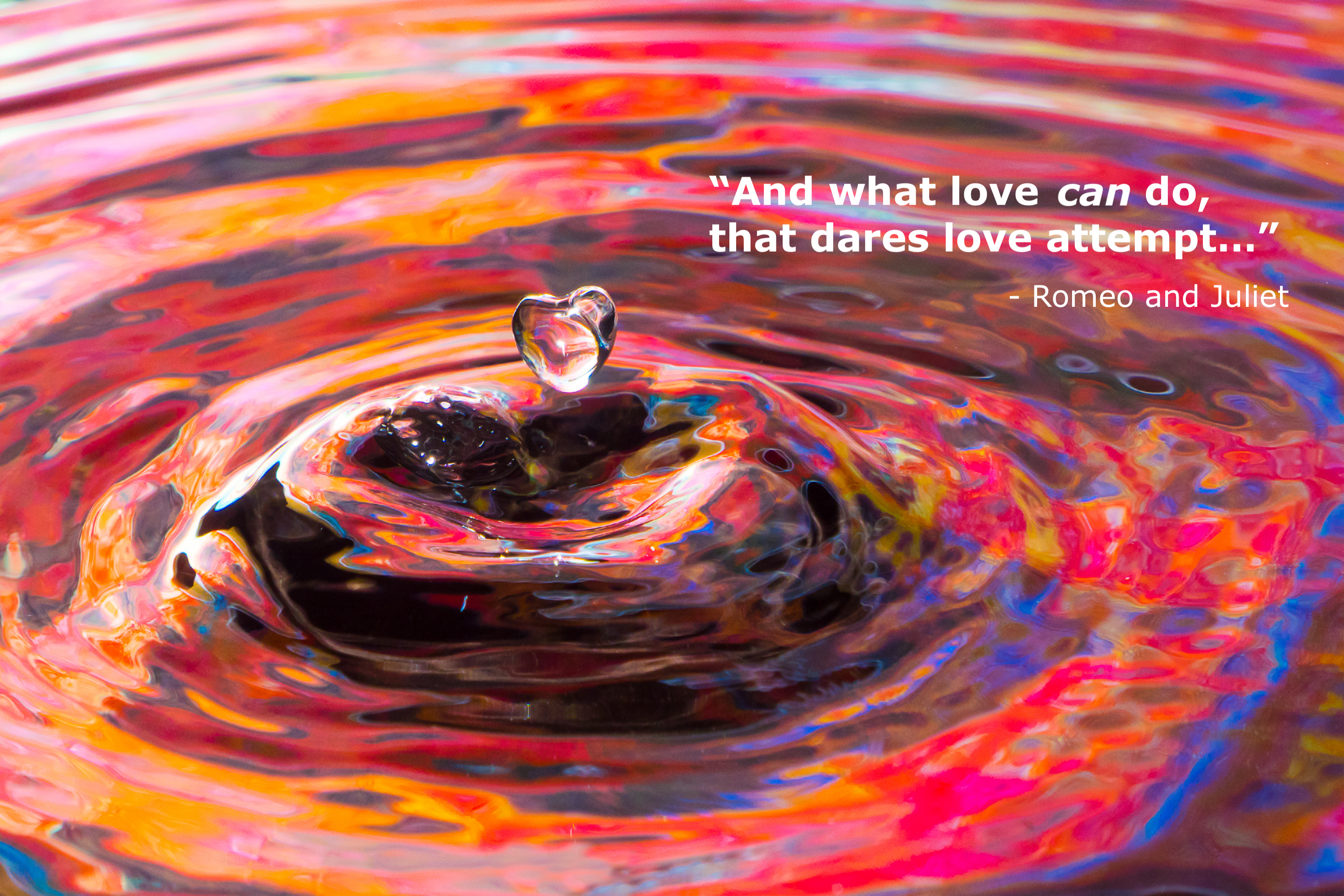 " …with no less confidence than boys pursuing summer butterflies."
(Coriolanus, 4.6)
| In this issue:
As Repercussion adapts to the profoundly altered arts landscape during this time of crisis, we humbly ask that you consider becoming a monthly donor, or making a charitable contribution.
Your valued patronage enables us to keep developing new works, kickstart theatre careers, and nurture strong community connections grounded by the arts.
Thank you.

"Let me embrace thee, sour adversity, for wise men say it is the wisest course."
(Henry VI, Part III, 3.1)
| 2020 Performance Update
We believe in the power of the arts, and particularly in the capacity of theatre to bring people together to question, reflect and imagine new possibilities together. We believe our sacred role as artists is to provide connection, and we strive to do that each summer. It is particularly difficult for us to not be able to gather with our colleagues and our co-citizens right now, when it would feel good to share in some moving, thoughtful theatre. It is deeply frustrating that, in a time when so many are hurting, social distance is required. We are reflecting constantly about theatre's role in the world, and communing with theatre-makers across the country to figure out how we as a sector survive this situation and emerge even stronger, so that we can serve our communities in meaningful ways again. But for now, for us, that means not putting on a summer show. This is uncharted territory for us all, and it will take time to navigate it thoughtfully. We feel it is more urgent to truly reflect and to carefully plan for the future than to rush to create a pale replacement of our summer show which would provide – what? Empty cultural calories. There is a strong desire to "get back to normal" I know. But our job as artists is, as always, to hold a mirror up to nature, and to encourage us all to reflect on what we see. To me it seems that, for better or worse, we are in a moment that is inviting us (even begging us) not to "return to normal" but to question what that "normal" was, and whether it was actually serving all of us…
(Read the full text of our updated 2020 Cancellation Notice here.)

"What fairies haunt this ground? A book? O rare one!"
(Cymbeline, 5.4)
|
Chris's Over-wrought & Over-thought Book Report
My fortress is built of bookshelves. Without straying too far into the hackneyed universally acknowledged truths department, leave a lit. major inside longer than 2.8 seconds, and they'll start gravitating towards wherever reading materials are being stored.
Through this period of quarantine and social distancing, when my usual haunts (café/market/café/park/café/yoga studio) no longer seem like places I can allow myself to visit in good conscience, my physical world has contracted. So, while making efforts to Skype and Zoom, and text and call, and email and DM, I've been working with the physical objects in my entourage that comfort and speak to me most – my books. The dancing halls are closed, the theatres left lit by ghost light, and I have chosen to stay in, but it feels good to know worlds upon worlds, to say nothing of the breadth of human experience, are available to me, cloth and paper bound, static, as I am, on the shelf. Waiting.
And that, I suppose, is really the crux of things – the waiting, the sense of world(s) suspended. The sense that the world we knew, and quite possibly took for granted, has been bouleversé, like a looseleaf manuscript tossed into the air, and we're not yet sure where all the pieces are coming down.
I confess that my books had become, pre-quarantine, something of a backdrop, innocuously lining the walls as so much apartment filler – there was always something else to do, somewhere else to be, some project that was more pressing, more vital, more practical, than setting down and actually investing readerly time in myself. But, now, I've had my 2.8 seconds, and I've definitely heard the call of my "currently being read" pile, and my "never got around to, but absolutely need to read" stack, and my "maybe reread these ones, just to make sure they deserve jealously coveted shelfspace" mess. (To say nothing of the "bewilderingly not yet overdue" lineup.) What might have been floating at the back of my mind, meekly gathering dust on along with the wainscoting, has leapt to the fore.
What I've found particularly interesting about the resurgence of my books is not how satisfying the armchair travel they enable is, nor how foolish I've been in neglecting them, but the double valence of their usefulness. Loath though I am to instrumentalise literature, I can't help but frame my personal library with William Morris's "golden rule" about possessions being useful or beautiful – the language of these texts, be they poetry, prose, or drama, is often beauty, or, in the case of the more objectionable schlock I own, at least useful in providing a distraction. But the books have also been useful as physical, tangible goods. Being able to pick up a well-thumbed volume, or see the familiar spines of works read, is comforting.
The process of stacking, interfiling, and shelving those books has also been soothing. At this point, I've probably reorganised my books a solid half dozen times, and, much to the neighbours' dismay, I've hefted whole cases across rooms and down hallways, piling up bookish minarets as I lay out what fits which shelf best. Should one organise thematically? Chronologically? Alphabetically? By subject focus? By subjective evaluation of worth? By size, colour, and sort of binding? To a certain extent the logic underpinning my shelf curation isn't really all that important – what feels vital, instead, is the fact that I'm able to exercise a modicum of control, to delineate and situate, to render routine and familiar. My bookshelves have become a buffer, a haven of orderliness in an otherwise overturned world. Which is why, as noted off the top, I've been spending so much time with my bookshelves.
And now, now that I have my bibliomaniacal tendencies under control (read: "temporarily, tenuously held in check"), I have something to look forward to – a book club (see below), a meeting of like-minded theatre nerds and lit. lovers, a forum for discussing and speaking back to the very tomes that have been such a boon. And I swear this isn't just an excuse to shift that multi-volume Collected Works that I've held on to for ages, just because it looks so darn good on the shelf…

"Black Like Me"
| Systemic Racism and Canadian Theatre
Rather than suggesting an activity this month, we're sharing this important conversation that happened and is happening at the Stratford Festival: "Black Like Me". We at Repercussion are taking the time to read, listen and reflect on how we can ensure we are creating the most meaningfully inclusive environment possible. We're looking at our own practices and thinking deeply about how we, as a company, can be the kind of place where artists of all backgrounds and expressions feel welcome, and able to work/create in fully embodied, joy-full and rewarding ways. From its earliest days, Repercussion Theatre has been committed to accessibility and to the meaningful reflection of Montreal's beautiful diversity in the shows we tour, but we know we can and must do more.

"Make use of time, let not advantage slip."
(Venus and Adonis, 22.129-32)
| Linnea's Links
Engaging documentaries, old-school sweets, and boozy bookishness – enjoy this month's recommendations of what to watch, eat, and drink in these interesting times.
◊ Watch: Stream some of the National Film Board's vital documentaries: Mina Shum's Ninth Floor (2015) about the 1969 Sir George Wiliams Riot in Montreal (also the subject of Tableau D'Hôte Theatre's 2019 production Blackout; warning, the film contains some strong language) and Rachel Bower's I Am Skylar (2019) about a 14-year-old transgender girl on the cusp of puberty in Nova Scotia (Happy Pride Month!).
◊ Eat: Looking for your next #TogetherApart cooking challenge? Check out this 17th century recipe for "snow cream" (cool whipped cream with strawberries and almonds), via Marissa Nicosia of the excellent and entertaining blog, Cooking in the Archives.
◊ Drink: Nothing says "summer" like reclining on the terrasse, or chillin' on the porch, as the case may be – elderflower sprigs, chilled espresso, and fresh strawberries feature in Bard-inspired (slightly PG) tipples from Sh*tfaced Shakespeare.