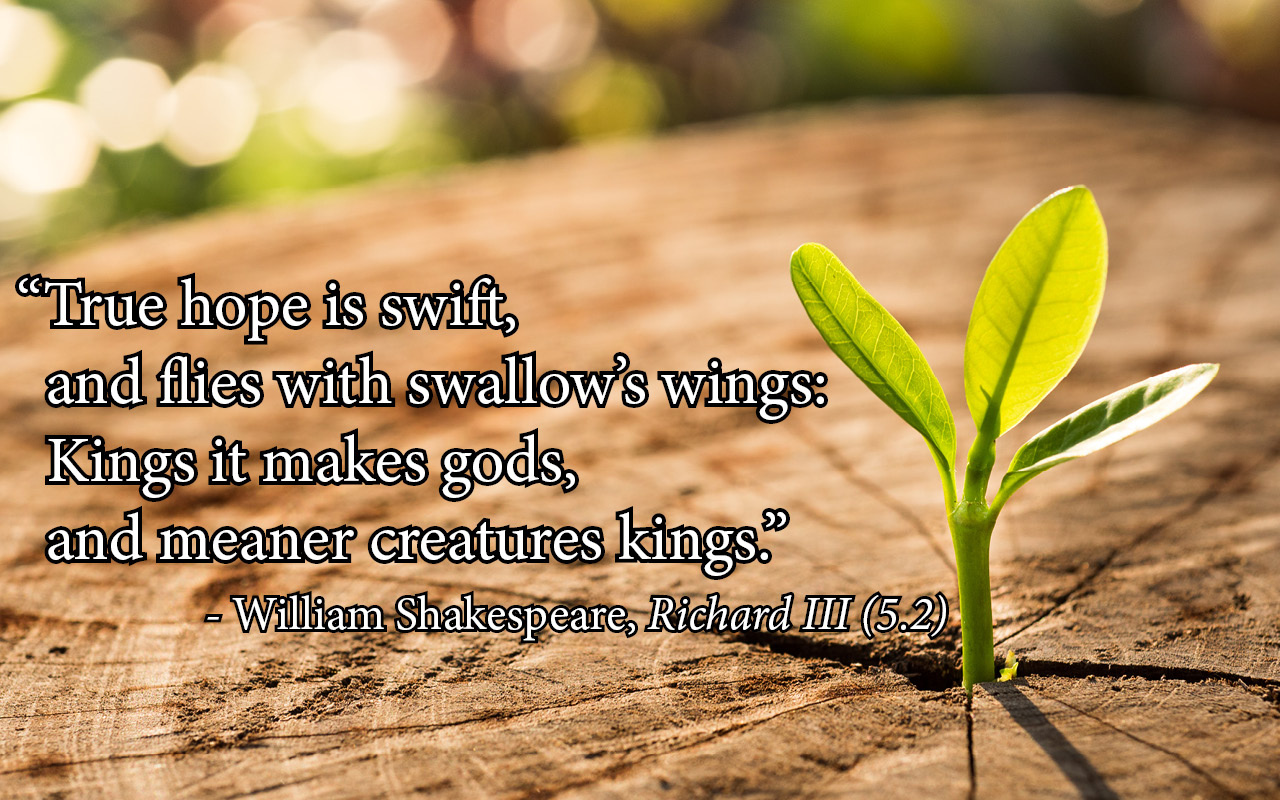 "There's business in these faces…." (Cymbeline, 5.5)
| In this issue:

"I'll call for pen and ink, and write my mind…"
(Henry VI, Part I, 5.3)
| Amanda's Notes on New Works-in-Progress
I've been hinting for a while now that we have some projects in the works, and so we are thrilled to finally share our plans for the 2nd edition of our Words With Will new play development series! (We've been working on this for almost a year, so it's wonderful to finally be able to let you in on this exciting undertaking!)
You may remember that in the first iteration of Words with Will, we – in collaboration with the outstanding Playwrights' Workshop Montréal – commissioned, developed and presented (in staged readings) Thy Woman's Weeds by Erin Shields and Cockroach (originally called whisper) by Jeff Ho. The two pieces each grappled with Shakespeare's looming presence on our cultural landscape in their own way, and the readings (which took place in October of 2018 at the Segal studio) inspired some amazing conversations. I won't bring up the fact that we were supposed to stage Thy Woman's Weeds as a co-pro with Tableau D'Hote Theatre in May, because it makes me too sad. I'll just say that we look forward to the day when both Erin and Jeff's plays get the full-blown production they deserve. (A pox on this pandemic!)
For our 2nd edition of Words with Will, we are once again commissioning and supporting the development of two new plays that "talk back to Shakespeare" in some way. With the continued support of the Canada Council for the Arts and the Cole Foundation (they helped make the 1st edition possible as well) we have been able to commission three artists to work on two plays, and we couldn't be more excited to tell you about them! I'll start with the artists, because frankly, that's what matters most. We've commissioned two plays, yes, but really we've committed to working with these particular artists. We've invited them to go on a journey to figure out what play they need to write, and we're excited to do whatever we can to support them on that journey! 
First up are work-and-life partners Omari Newton and Amy Lee Lavoie. I've known Omari since Cegep when we were both in the same theatre class (I played Grandma to his Kolenkov in You Can't Take it With You at John Abbott College – and if you don't know the play, I can assure you, that was some non-traditional casting in both cases!) and I later became aware of Amy Lee's work as a writer when she was studying at the National Theatre School. They are now a married couple, and a couple of ridiculously talented theatre-makers who currently call Vancouver home (but we're working on that). Amy Lee and Omari have chosen to take on one of Shakespeare's most gruesome plays, from the perspective of those who don't usually get to have much say…. And if you want to know more, you should check out their project description here.
The second project comes from (or through, depending on how you think of creativity) the multi-talented artist and all-around-awesome-person, Jimmy Blais. A Montréal-based actor, creator, mentor, and member of the Muskeg Lake Cree Nation, Jimmy is an artist that I've had the pleasure of working with on a number of projects. I was lucky enough to be part of the staged reading of his play Sonny's Way at Native Earth's Weesageechak Begins To Dance festival in November (2019) and was blown away by his writing; so I was very excited when he started talking about wanting to explore the intersection of truth and reconciliation, and Shakespeare…  He's also getting support from Native Earth Performing Arts and working with Yvette Nolan as dramaturg. And, you guessed it, you should check out his bio and the project description here.
As difficult as it is to not be able to do full-blown theatre right now, the fact that we have been able to continue work on these exciting projects has been such a blessing. We will workshop the plays in the Fall and look forward to sharing the works-in-progress with you sometime (and somehow) in February of 2021. And at some point, we're hoping to hold a virtual round-table with the artists to talk about the process. We will, of course, keep you posted as things continue to develop. 

"Know of me then – for now I speak to some purpose…"
(As You Like It, 5.2)
| New Play Development: Announcing the 2nd Edition of Words With Will
Repercussion Theatre is proud to announce the second edition of Words With Will! As the project's second cohort continues their work, and looking forward to public readings in February 2021, Repercussion is thrilled to present brief project précis, and playwright biographies – please visit the project page for more information!



As Repercussion adapts to the profoundly altered arts landscape during this time of crisis, we humbly ask that you consider becoming a monthly donor, or making a charitable contribution.
Your valued patronage enables us to keep developing new works, kickstart theatre careers, and nurture strong community connections grounded by the arts.
Thank you.

"Shall we go draw our numbers, and set on?"
(Henry IV, Part II, 1.3)
| Spotlighting New Company Personnel
Pandemic closures and cancellations, and new work-from-home norms notwithstanding, Repercussion is happy to announce the expansion of our team! We are joined by Jane O'Brien Davis, Development Assistant, Molly Barrieau, Communications Assistant, and Jenna Short, Special Projects Intern.
You may have heard that our Theatre's work is a Herculean Effort, and we're glad to have more hands on deck!




"Whiles I stood rapt in the wonder of it, came missives…"
(Macbeth, 1.5)
| Updated Contact Details
The Repercussion office team have recently updated our email addresses; we ask that correspondants kindly note that emails to members of the company core should be addressed following a "[name]@repercussiontheatre.com" logic. (Specific email addresses can be verified on our website's Team page, for those that have rolodexes to keep fresh.) Of course, we still welcome emails to info@repercussiontheatre.com, and are happy to join in conversations through our social media channels as well.