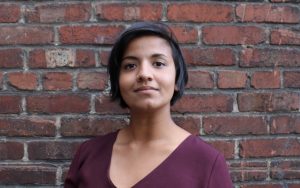 Welp, my coffee's finally gone cold and I'm driving my new office-mates nuts with my leg-jiggling, so I guess it's time to write this blog post.
Hello! Greetings! My name is Shanti Gonzales. I'm an Indian-Mexican-American theatremaker, living in Montréal. I'm an emerging director, actor, and playwright. Some of my more recent credits include producing my solo piece, Love Painted Brown, and acting as Cristina (Cakehead) in Teesri Duniya's production of The Refugee Hotel. I'm part of the Artist Mentorship Program at Black Theatre Workshop, as well as the Young Creator's Unit at Playwrights Workshop Montréal. I teach baby music classes six days a week. And now here I am at Repercussion, as the brand-spanking-new Artistic Associate. You could say I keep busy. I would say I keep caffeinated.
My work is concerned with the performance of intersectionality. I am about holding space for conversations/art about race, queerness, gender, class – and the way those things intersect within us. I care deeply about accessibility and representation. I believe through theatre, we have the power for healing, growth, and imagining new worlds. Socially engaged theatre is the language in which my image-driven mind thinks when it comes to changing the world.
That's what drew me to Repercussion. Accessibility and representation are right there in the mission. This company has proven again and again that it talks the talk, but more importantly walks the walk. Repercussion consistently hires (read: pays, enriches, and supports!) female-bodied/femme, emerging, BIPOC, and queer artists. Its performances bring professional theatre right into Montreal's backyard, while ensuring physical and financial accessibility. And I find it especially exciting that Repercussion does Shakespeare, who is all too often considered hoity-toity or outdated.
When I was 18, I founded a theatre company in Boston called CoffeeSpoons Theatre Project, a company where our primary mission was accessibility. As I'm sitting here thinking about why Repercussion and I are a good fit, I opened up the mission statement I wrote for CoffeeSpoons five years ago:
"There are those who see theatre as stale words, a stiff-backed chair, and a stuffy windowless room – we hope to change that. We strive to breathe youthful and inspired life into the theatre by bringing it right to you, in an open and casual setting. With CoffeeSpoons, a 'night at the theatre' involves food, friends, drinks, and laughter."
I don't think 18-year-old Shanti could have imagined just how relevant those words would be five years later, in a new job, in a different country, in what sometimes feels like a different world. For 30 years, Repercussion has been walking that walk: "breathing youthful and inspired life" into a genre that started off as an accessible art form, only to be repurposed by the wealthy and perceived as highbrow. Repercussion takes the Shakespeare tomes off the shelf, mobilizes a vibrant team of diverse, energetic, and talented artists, and brings the magic to every corner of Montréal.
And now here I am! Artistic Associate at Repercussion Theatre. Since Amanda and I are developing this position as we go, there's some fluidity in my job description, but here's what I'll be working on to start. My main responsibility is to "support the Artistic Director in programming and planning." Translation: I'm here to be Amanda's sidekick and partner in any and all matters creative.
You might not know this, but Repercussion is a tiny operation for most of the year. There are only 2 full-time employees (Amanda Kellock, Artistic Director, and Zina Koro, General Manager who has just returned from maternity leave, during which time she was replaced by Karine Kerr-Gilespie), and 1 part-time employee (Holly Greco, Outreach and Fundraising Coordinator whose contract will be done in a few short months). Each member of the team is doing crucial behind-the-scenes work that ensures the continued smooth functioning of the company. Running a theatre company involves so, so much more than the theatre art. There are grants to be written, events to be planned, parks to be contacted… It's a ton of work, but these women handle it with all the grace in the world.
Thing is, Amanda is the creative force here, but she rarely has time to get into it, what with all the other stuff to do. That's where I come in. I'm here to help Amanda do what she's great at — I'm here to focalize the Art in the Artistic Director's workload. Amanda and I have regular conversations/thinktanks/brainstorming sessions about the vision and direction of the company, the creative ins and outs of our summer 2018 tour (which I'll be Assistant Directing alongside Amanda), and where we want to see the company move for the 30th anniversary and beyond.
I'll also be writing regular blog posts to give you a glimpse into what we're up to. Somehow I was lucky and cunning enough to inception Amanda into giving me a job – and now that I'm here, I can't wait to see what mischief we get up to for our 30th year.