From the point of view of Amanda Kellock, Artistic Director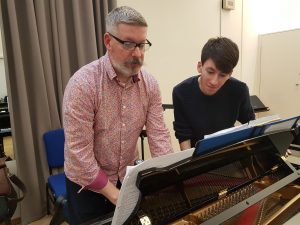 (Left: Patrick Hansen, librettist, and James Garner, composer, working on their new opera in June 2017)
In June, I headed to London with the Early Modern Conversions project to participate in a workshop of a new opera based on Much Ado About Nothing at the Guildhall School of Music and Drama. Operas aren't often workshopped in the same way that we tend to workshop plays, so this was a rare opportunity to watch a brand new opera evolve, and to be part of the process. With a libretto by McGill's Patrick Hansen and music by young London-based composer James Garner, this international co-production was in its early stages, with only about half of the music yet composed. I was invited to lead a group of actors (mostly from London, though we did bring along the fantastic Quincy Armorer, our very own Benedick) through rehearsals of and discussions about Much Ado, which would then help inform the composer and librettist. Many operas based on Shakespeare plays focus on the story, eschewing the specificity of the language — but Patrick was particularly interested in seeing if it was possible to work with Shakespeare's language, rather than ignoring it. Hence such a workshop.
Each day, actors rehearsed a scene from the play (with me both directing and sometimes acting), followed by animated discussions with the scholars and artists; and then the opera singers would sing through that same scene – with Patrick and James often making adjustments based on what had been discovered during the earlier rehearsals. It was exhilarating and fascinating. On the final day, we performed excerpts for an invited audience, and lamented that we didn't have another week (or month!) to work together.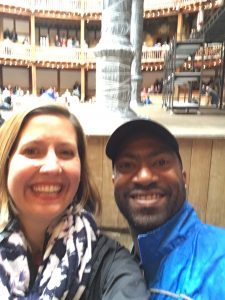 It was truly a delight to get to work with some fantastic artists, and to soak up London's history and vibrancy – even if it was only for a few short days! This was also a once-in-a-lifetime opportunity for me and Quincy (colleagues, friends, and unabashed Shakespeare nerds) to see a show at Shakespeare's Globe… Emma Rice's wild production of Twelfth Night. (But you'll have to buy me a beer if you want me to tell you what I thought of the show.)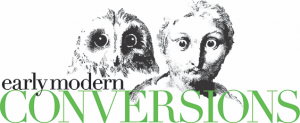 I'm so grateful that we got to be a part of this workshop, and can't wait to see how the opera evolves. It's always exciting when we get to play with our friends at the Early Modern Conversions Project!
---
Converting Sounds: Un nouvel opéra basé sur Beaucoup de bruits pour rien à Londres
Du point de vue d'Amanda Kellock, directrice artistique
En juin, je me suis rendu à Londres avec le projet Early Modern Conversions pour participer à un atelier d'un nouvel opéra basé sur « Beaucoup de bruits pour rien » à l'école de musique et de théâtre Guildhall. Les opéras ne sont pas souvent travaillés de la même manière que nous avons tendance à les travailler, donc c'était une occasion rare de voir un opéra évoluer. Avec un livret de Patrick Hansen de McGill et de la musique du jeune compositeur londonien James Garner, cette coproduction internationale en était à ses débuts. Avec seulement environ la moitié de la musique encore composée, j'ai été invité à diriger un groupe d'acteurs (surtout de Londres, bien que nous ayons apporté le fantastique Quincy Armorer, notre propre Benedick) à travers des répétitions et des discussions sur Beaucoup de bruits, qui aiderait alors à informer le compositeur et le librettiste. Beaucoup d'opéras basés sur Shakespeare se concentrent sur l'histoire, évitant la spécificité de la langue. Patrick était particulièrement intéressé à voir s'il était possible de travailler avec la langue de Shakespeare, plutôt que de l'ignorer. Par conséquant, un tel atelier.
Chaque jour, les acteurs ont répété une scène de la pièce (avec moi à la fois réalisateur et parfois acteur), suivi de discussions animées avec les savants et les artistes; ensuite, les chanteurs d'opéra chanteraient à travers cette même scène – avec Patrick et James faisant souvent des ajustements basés sur ce qui avait été découvert lors des premières répétitions. C'était exaltant et fascinant. Le dernier jour, nous avons joué des extraits pour un public invité, et nous avons regretté que nous n'ayons pas eu une autre semaine (ou mois!) Pour travailler ensemble.