Some of you may know that our General Manager, Zina Koro, is expecting a baby in the coming weeks. And so, as Zina starts the new year getting ready to be a new mom, Repercussion Theatre is excited to introduce you to… our interim General Manager, Karine Kerr-Gillespie!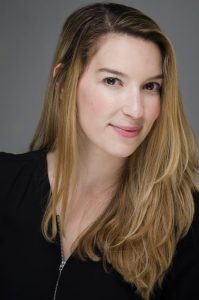 Karine has worked with us in many capacities over the past 5 years: first as a Marketing Assistant in 2012, then doing outreach and
communications coordination in 2013 and 2014, and now (after 2 years with the Canadian Newswire) she has come back to us, to help sail the good ship Repercussion through 2017!
We're so happy to work with Karine again, and she's excited to be back
"Returning to Repercussion Theatre feels like coming home after a long time away. It's both safe and scary, familiar and yet completely different. But one feeling that is not conflicted is my excitement to be back and my eagerness to start this 2017 tour."
Say hello to Karine on FB or Twitter, or at 411@repercussiontheatre.com
Stay tuned: We'll be announcing our 2017 show and audition dates in the coming weeks…