With the support of the Conseil des arts de Montréal, Repercussion Theatre Proudly Presents:
Shakespeare-in-the-Park 2021: Summer of Sonnets 
This summer, Repercussion Theatre returns to Montreal parks with a Summer of Sonnets, a special edition of Shakespeare-in-the-Park including pop-up performances, livestreams, workshops, and sonnet videos.
As this year's Shakespeare-in-the-Park tour will be made up of spontaneous, pop-up style performances – in order to abide by provincial health guidelines for outdoor, pop-up events, we are unfortunately unable to advertise SITP 2021 offerings at this time. Although we find ourselves in the process of deconfinement, Repercussion Theatre will be complying with public safety guidelines aimed at preventing the gathering of too many individuals in one place, at one time.
Repercussion is thrilled that our Summer of Sonnets will invite audiences to experience the wonder and charm of Shakespearean poetry – even if our in-person performances cannot currently be promoted. We have a slate of digital offerings that we'll be sharing – and we'll be leaving clues and updates on social media about our tour…
So, grab some poetry, and get outdoors!
Check out our Sonnet Program/Chapbook, here!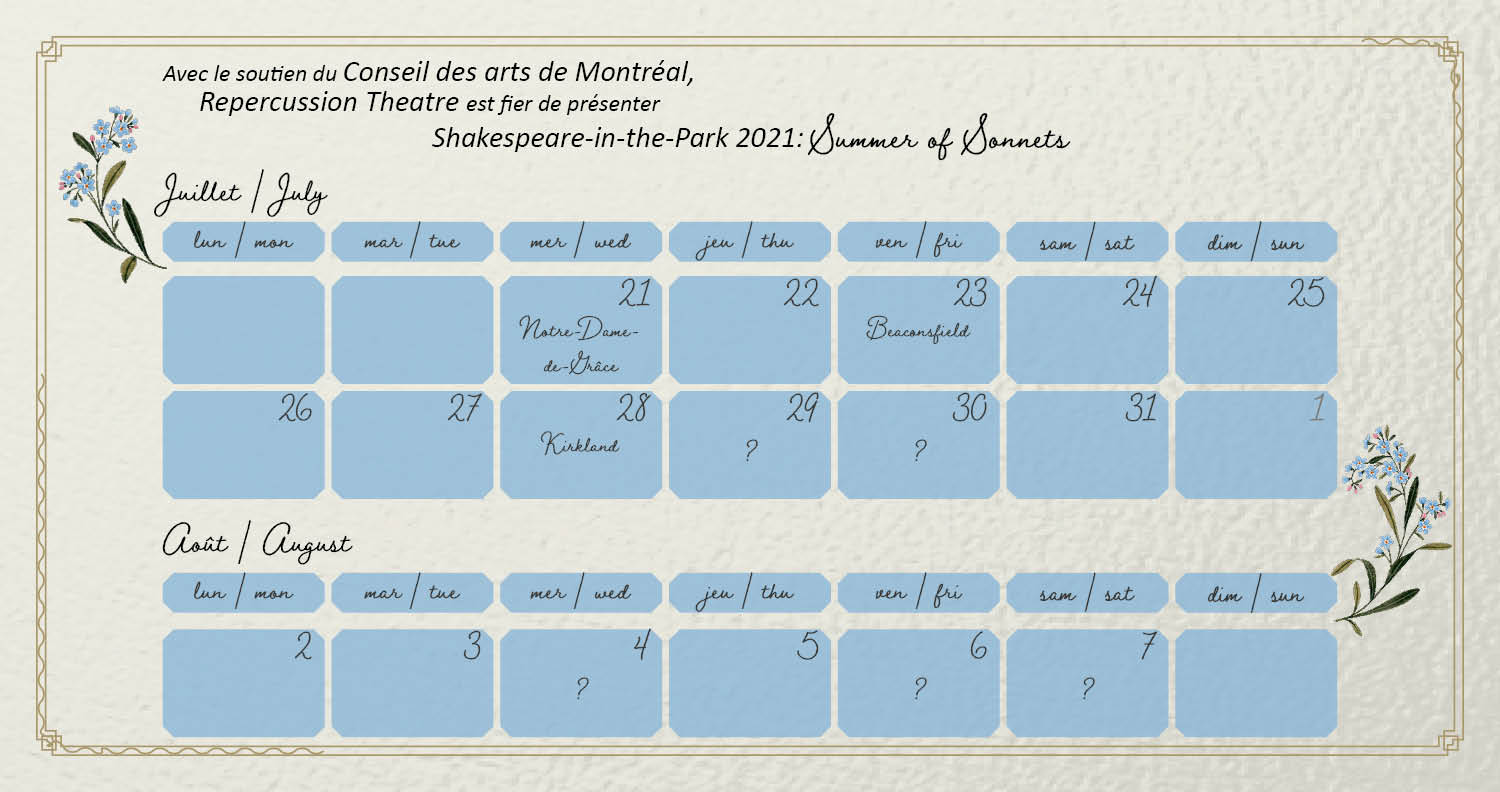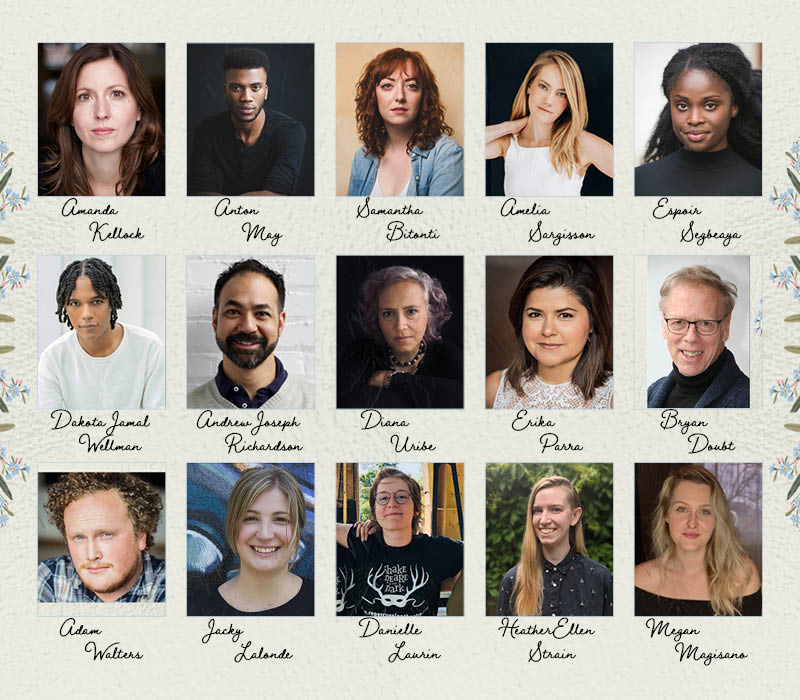 The Shakespeare-in-the-Park 2021 Team
Director – Amanda Kellock
Assistant Director – Anton May
Performers/ Creators – Samantha Bitonti, Amelia Sargisson, Espoir Segbeaya & Dakota Jamal Wellman
Performer/Dramaturg – Andrew Joseph Richardson
Production Design – Diana Uribe
Design Assistant – Erika Parra
Shakespeare Coach  – Bryan Doubt
Technical Director  – Adam Walters
Production Manager –  Jacky Lalonde
Stage Manager – Danielle Laurin
Apprentice Stage Manager – HeatherEllen Strain
COVID-19 Safety Coordinator – Megan Magisano
Cinematographer/Head Electrician – Parker Copeland
Cinematographer/Head Electrician – James Perry
Head of Sound- Jordan Larson
Sound Editor/Sound Coach – Rob Denton
Video Editor – Jamal Johnson
Repercussion General Manager – Linnea Jimison
Director of Communications – Christopher Chaban
Communications Assistant – Gregory-Yves Fénélon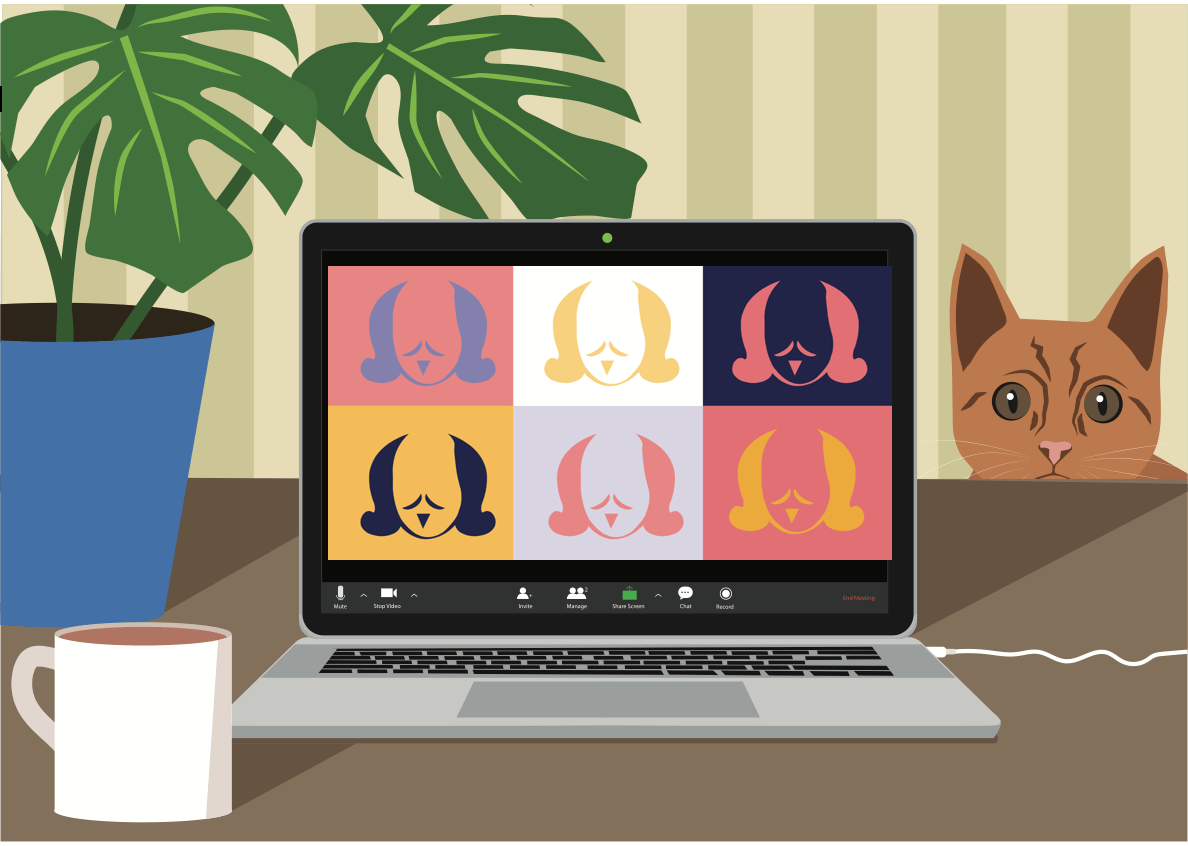 Summer of Sonnets: Workshops + ateliers
Tuesday August 10, 1-2 pm: "Write your Own Sonnet" / Mardi le 10 août, 13h à 14h, "Écrire votre propre sonnet"
~
__________________________________________________________________________________________
Wednesday, August 11, 5:30-6:30 pm: "Appreciating Sonnets" / Mercredi le 11 août, 17h30 à 18h30, "Apprécier les sonnets"
~
__________________________________________________________________________________________