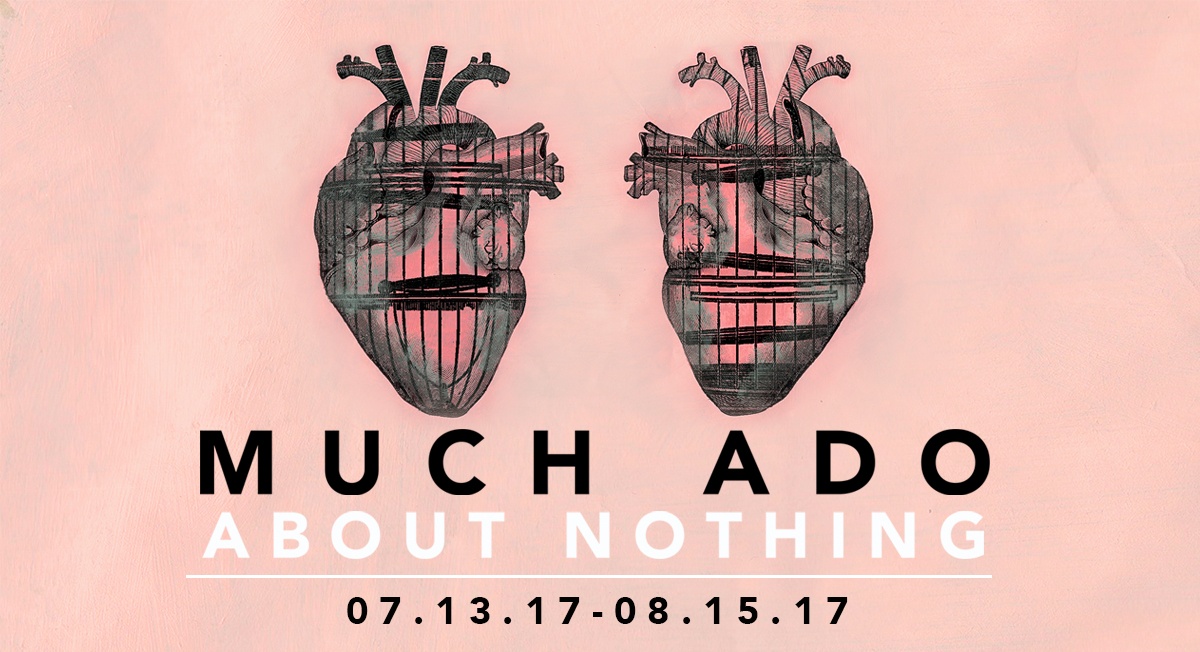 "Don't be fooled by the casual park setting, this is a professional production with top notch actors. […] Shakespeare-in-the-Park is truly a must see Montreal event during [the] summer"

– Toula Drimonis, Daily Hive
Much Ado About Nothing (2017)
The Play
Repercussion Theatre presents Shakespeare's tragic romantic comedy, Much Ado About Nothing. The characters in this dark love story learn that real love requires unmasked vulnerability. Featuring a wonderful cast of 11 actors, a blend of playfulness and pathos, and a dynamic design.
Seven META Nominations! 
A jury of our theatre-industry peers nominated the 2017 Shakespeare-in-the-Park production for seven Montréal English Theatre Awards (METAs)!
---
Creative Team
Director : Amanda Kellock
Assistant Director : Samantha Bitonti
Set Design: Sabrina Miller
Costume Design : Sophie El-Assaad
Lighting Design : Jacynthe Lalonde
Sound Design: Troy Slocum
Production Staff
Production Manager : Jacynthe Lalonde
Technical Director : Adam Walters
Stage Manager : Danielle Laurin
Apprentice Stage Manager: Annalise Peterson-Perry
Apprentice Stage Manager: Heather Strain
Head of Lighting : Clara Sweetman-Hammond
Head of Sound : Chris Iannotti
Head of Wardrobe: Sonya Vallis
Props & Set Assistant: Estelle Clavreul
Site Technicians : Giuliano Chabot, Lucas Garrett, Riki Shimoda
Carpenter: Dave Surette
Props Builders: Estelle Clavreul, Jessica Alley
Seamstress : Marika Porlier, Erika Parra, Anne-Marie Rostaing
Cast
In alphabetical order:
Quincy Armorer – Benedick
Anurag Choudhury – Borachio / Friar
Chip Chuipka – Dogberry / Balthazar
Tiernan Cornford – Hero
Dean Patrick Fleming – Don John / Verges
Holly Gauthier-Frankel – Beatrice
Susan Glover – Leonata
Matthew Kabwe – Don Pedro
Cara Krisman – Ursula
Sarah Segal-Lazar – Margaret
Dakota Wellman – Claudio
---
Parks Visited

July 13: Baie d'Urfé: Fritz Farm
July 14: Cornwall: Lamoureux Park
July 15: Knolwton: Knowlton Academy
July 16: Parc Extension: Parc Jarry
July 18: Pierrefonds: À ma Baie Park
July 19: Kirkland: Ecclestone Park
July 20: Dorval: Pine Beach Park
July 21: Ville-Marie: Canadian Centre for Architecture
July 22-23: Westmount: Westmount Park
July 25: Verdun: Honorable-George-O'Reilly Park
July 26: Côte Saint-Luc: Rembrandt Park
July 27: Town of Mount Royal: Danyluk Park
July 28: Beaconsfield: Centennial Park
July 29: Huntingdon: Grove Hall
July 30: NDG: Benny Park
August 1: McGill University
August 2: Brossard: Sorbonne Park
August 3: Outremont: Mount Royal Cemetery
August 4: Saint-Laurent: Philippe-Laheurte Park
August 5: Rivières-des-Prairies: Armand-Bombardier Park
August 6: Plateau Mont-Royal: Jeanne-Mance Park
August 8-9: Westmount: Westmount Park
August 10: LaSalle: Parc des Rapides
August 11: Morin Heights: Basler Park
August 12: Ville-Marie: Cabot Square
August 13: Hemmingford: Recreation Centre
August 15: Greenfield Park: Empire Park