Meet our Board
Our Board of Directors plays a critical role in the Theatre's governance.
Read on to learn a bit more about the wonderful people who make up our Board.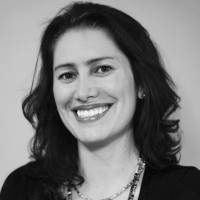 Gina Beltrán
Director | Repercussion Board & Developer, Graduate Academic Programs | Concordia University
Gina Beltrán joined the board in March 2021. She completed her PhD in literature at the University of Toronto and has held leadership positions in the non-for-profit and higher education sectors. Currently, she works at Concordia University helping rethink and transform graduate education.
Theatre is about coming together and sharing experiences and stories to make sense of our lives. Repercussion does this beautifully. They have created an important and meaningful community in Montreal, and I am proud to serve and be part of that community.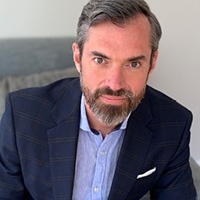 Stephen Bird
Past President | Repercussion Board & Global Client Director | AT&T Global Services Canada Co.
Stephen Bird is the President of Repercussion Theatre.  He joined the Board in 2017 and assumed the Presidency in 2019.
Stephen currently works as an Account Director for AT&T Global Services.  He was educated at the University of Toronto where he completed a Master's in European History, and at the University of London, where he completed a PhD in modern French history.  Stephen is a published author – Reinventing Voltaire: The Politics of Commemoration in Nineteenth-Century France.  He served on the board of the Westmount Public Library between 2014 and 2018 – as Chair from 2016.
Since I moved to Montreal to join AT&T in 1998, I've been an avid supporter of Repercussion Theatre – my family and I have attended virtually every production.  I believe deeply in the company's mission to ensure that Shakespeare and classical theatre remains a vibrant fixture of the public domain that is accessible to all – in particular in the great outdoors.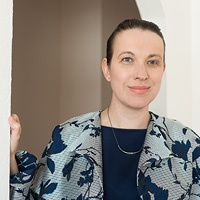 Natalka Haras
Director | Repercussion Board & Legal Counsel | ADP Canada Co.
As Senior Counsel for ADP Canada, Natalka provides employment law support to all levels of the business and also serves as Co-Chair of ADP's Global Legal Department's Diversity, Equity, and Inclusion Committee. Natalka began her career as a judicial clerk at the Federal Court of Appeal of Canada, and then went on to represent employers on a range of labour and employment matters at a major global law firm in Toronto. With experience ranging from the higher education sector, to global brands, to small business, Natalka is passionate about workplace law and HR best practice.
An active member of her community and supporter of the arts, Natalka serves on the Board of Montreal's Repercussion Theatre (Shakespeare-in-the-Park). Natalka holds degrees in common and civil laws (BCL/LLB) from McGill University, an MA in International Affairs from Carleton University, and a BA from Huron University College at Western University. 
I love how Shakespeare-in-the-Park brings together communities – watching a play with your neighbours of all ages and backgrounds in the open air is a special kind of magic. I get excited every time I see Repercussion Theatre setting up! I am honoured to be on the Board to help promote best practices in governance and operations in the charitable sector.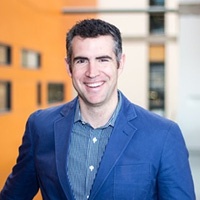 Chris Kent
President | Repercussion Board & President, CEO | ODS Medical Inc
Chris has been on the Board of Repercussion Theatre since 2019. Chris is the founding CEO of ODS Medical Inc, a medical technology company dedicated to pushing the limits of cancer detection by developing optical biopsy tools based on machine learning and Raman spectroscopy. He did his PhD in Neuroscience at McGill, working at the Montreal Neurological Institute, and prior to that worked for a number of years for Necessary Angel Theatre Company in Toronto.
I'm thrilled to be able to contribute to the growth of Repercussion and ensure the long-term success of this vital part of Montreal's culture.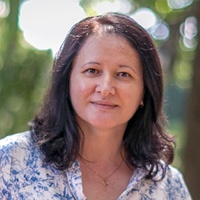 Liliana Korosi
Director | Repercussion Board & Associate | Osler, Hoskin & Harcourt LLP
Liliana joined Repercussion Theatre as a member of the board of directors in 2021. Practicing as a business lawyer, Liliana is a trusted innovative advisor on venture capital financings and business structure for emerging and high growth companies, providing strategic counsel to clients in various industries. She is also a sought-after advisor for private equity and venture capital funds, building fund structures to respond to the newest market approach on private equity and venture capital financing. As published author on topics related to venture capital financing for emerging and high growth companies, Liliana shares her insights while collaborating with start-up incubators and accelerators.
Liliana is a former judge, having presided as a court judge in Romania for nearly ten years, four of which as a judge at the Court of Appeal of Bucharest. While on the bench, Liliana was also a highly appreciated lecturer on matters of intellectual property, civil law, civil procedure law and labour law for the National Institute of the Magistracy.
I strongly believe that education and connecting people through art and theatre could make the world a better place. Repercussion Theatre's goals, its involvement in the community, in making the theatre accessible, diverse and present, offer the opportunity to give back in a way that it is meaningful, to make a contribution in getting the theatre and the literature closer to people, as people from all backgrounds and generations may come together and enjoy.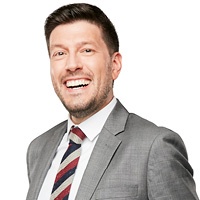 Elias Makos
Director | Repercussion Board & Host, "The Elias Makos Show" | CJAD 800
A native of Montreal, Elias Makos is the host of The Elias Makos Show on CJAD 800, the station's mid-morning show. Before arriving at CJAD 800, Elias spent six years on Citytv's Breakfast Television Montreal. He also hosted Citytv's Sportsnet Central Montreal. Prior to that, Elias served as a regular contributor to CTV Montreal, CTV News Channel, CBC Montreal, and CBC radio's national syndication service. Elias holds a BA in Journalism from Concordia University, and worked for seven years in Concordia's journalism department as a full-time instructor and part-time faculty member. Elias also has a significant amount of experience in professional sports. He spent three years in media relations for Major League Baseball's Montreal Expos, and also worked for the National Hockey League's Montreal Canadiens from 2002 to 2011.
Mary Poland
Secretary | Repercussion Board & Senior Actuary, Experience Analytics (retd) | Manulife
Ms. Poland holds the position of Secretary. Her main responsibility is to record the minutes of the Board meetings, which includes following up on the action items and to-do's that arise.
She is a retired actuary, having worked for 40 years in one of Montreal's larger insurance companies.  While perhaps not the traditional background for a theater company Board member, problem-solving skills and attention to details are useful assets to any Board.
Like so many people, I love the theatre, and was involved in high-school productions.  However, my role was always  behind the scenes, from stage crew to lighting team, and even a bit of directing.  High school was a very long time ago, and my days of painting backdrops on 25-foot ladders are well behind me, so I am thrilled to continue my behind-the-scenes support by serving on the Board of Repercussion Theatre.